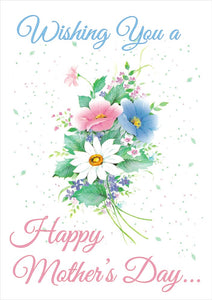 Size: 21cm x 14.85cm
This extra-large C5 card with a paper insert features a gorgeous floral bouquet, perfect for conveying your heartfelt messages this Mother's Day.

The inside right text reads:
...and very many
blessings!
The inside left text reads:

 Thinking of You Mum
This morning, when
I wakened and saw the sun above,
I softly said
"Good morning Lord, bless everyone I love." 
Right away I thought of you
and said a loving prayer, that
He would bless you specially 
and keep you free from care.
I thought of all the happiness a day could hold 
in store;
I wished it all for you
because 
no one deserves
it more.


These cards are sold individually with a shimmery cream envelope.