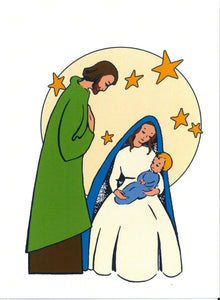 Size: 14.85cm x 10.5cm 
This card featuring the Holy Family backlit by the moon and stars was designed by Sr Paula Kiersey OCSO (1917-2009).
The main greeting inside reads:
Bhronn Dia gach bronntanas maith orainn
nuair a rugadh Íosa.
Go mba libhse na bronntanais seo um Nollaig
agus ar feadh na hathbhliana!
These cards are sold in packs of five (with envelopes).
All who send and receive Glencairn Abbey cards are included in the prayer of the nuns at Christmas.