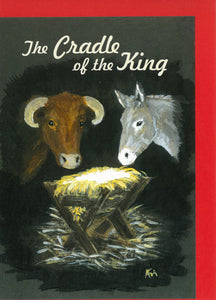 Size: 10.5cm x 14.85cm
This card was designed from original artwork by Alison Finegan who is famous for her beautiful depictions of farm animals.
The inside verse reads: 
I adore you, fragrant hay, because you
cuddled a barefoot baby, manger-born.
Pope St John Paul II
The text inside reads: 
May you too look upon Him in awe and wonder this Christmas!
These cards are sold in packs of five (with envelopes).
All who send and receive Glencairn Abbey cards are included in the prayer of the nuns at Christmas.