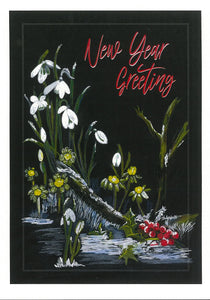 Size: 10.05cm x 14.85cm
This card was designed from original artwork by Pat McGee using coloured pencils
 The text inside reads: 
Winter flowers are natures way of saying 
that every day is a new beginning...
Every day gives you a new reason to smile...
A new inspiration to live...
A new energy never to give up...
Wishing you all the happiness and strength
As this new year begins!
These cards are sold in packs of five (with envelopes).
All who send and receive Glencairn Abbey cards are included in the prayer of the nuns at Christmas.