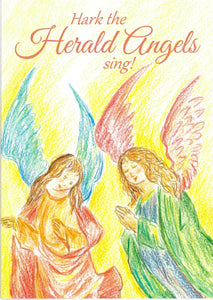 Size: 10.05cm x 14.85cm
This card was designed from original artwork by Charlotte Moran.
The verse reads:
"Good news from heaven the angels bring;
glad tidings to the earth they sing: 
To us this day a child is given,
To crown us with the joy of heaven."
The text inside reads: 
Wishing you all the joys and
blessings of the Christmas season!
These cards are sold in packs of five (with envelopes).
All who send and receive Glencairn Abbey cards are included in the prayer of the nuns at Christmas.