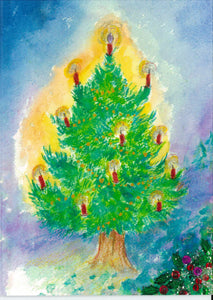 Size: 10.5cm x 14.85cm
This card was designed from original artwork by Charlotte Moran
The greeting inside reads: 
May peace be your gift this Christmas

and your blessing all year through!
The inside verse reads: 
Our task is to stand tall in God's love,
Secure in our place,
Sparkling in kindness,
Surrounded by His goodness,
Freely giving to all who come our way.
Max Lucado
These cards are sold in packs of five (with envelopes).
All who send and receive Glencairn Abbey cards are included in the prayer of the nuns at Christmas.