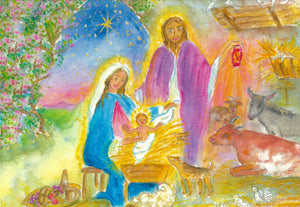 Size: 14.85cm x 10.05cm
This card was designed from original artwork by Charlotte Moran.
The verse reads:
Once in our world a stable had something in it
that was bigger than our whole world
C.S. Lewis
The text inside reads: 
May the Divine Infant bless your Christmas,
And the year to come.
These cards are sold in packs of five (with envelopes).
All who send and receive Glencairn Abbey cards are included in the prayer of the nuns at Christmas.