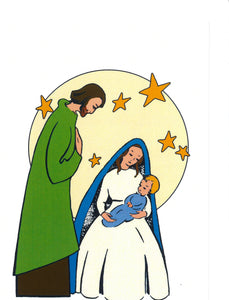 Size: 10.5cm x 14.85cm
This card was originally designed by Sr Paula Kiersey OCSO (1917-2009) but has been updated with new colours which give emphasis to the moon and stars as backdrop to the Holy Family.
The greeting inside reads:
 In the birth of Jesus
God has given us every good gift.
May these gifts be yours at Christmas
and throughout the new year ahead!
These cards are sold in packs of five (with white envelopes).
All who send and receive Glencairn Abbey cards are included in the prayer of the nuns at Christmas.