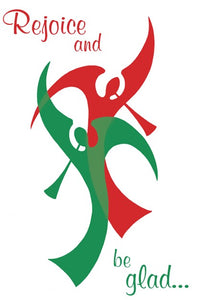 Size: 10.5cm x 14.85cm
This card originally designed in black and pink by Sr Paula Kiersey OCSO (1917-2009) has been given a new look in the traditional Christmas colours and has ben embellished with additional calligraphy.
The main greeting inside reads: 

Sincere good wishes
for a joyous Christmas and 
a New Year of Peace and Happiness!
On the inside left hand side is the verse:
"Angels descending, bring from above,
Echoes of mercy, whispers of love."
Fanny J. Crosby
These cards are sold in packs of five (with white envelopes)
All who send and receive Glencairn Abbey cards are included in the prayer of the nuns at Christmas.