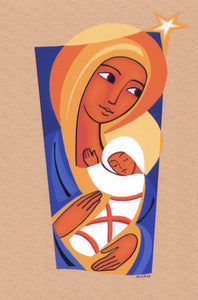 Size: 10.5cm x 14.85cm
This card was designed by Sr Françoise-Emmanuel Vauchot OSB (Venière Abbey, France).
The greeting inside reads: 
All praise to our dear Infant Jesus
Praise to his mother The Immaculate Virgin
Moladh go hard d'ár nÍosagán álainn
moladh d'A mháthair an Mhaighdean gan smál
These cards are sold in packs of five (with envelopes).
All who send and receive Glencairn Abbey cards are included in the prayer of the nuns at Christmas.