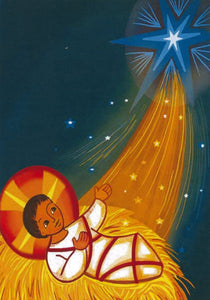 Size: 10.5cm x 14.85cm
This card was designed by Sr Françoise-Emmanuel Vauchot OSB (Venière Abbey, France).
The greeting inside reads: 
The true light, which enlightens everyone, is coming into the world
John 1:9
An solas fírinneach a shoilsíonn gach aon duine, bhí sé ag teacht ar an saol
Eoin 1:9
These cards are sold in packs of five (with envelopes).
All who send and receive Glencairn Abbey cards are included in the prayer of the nuns at Christmas.