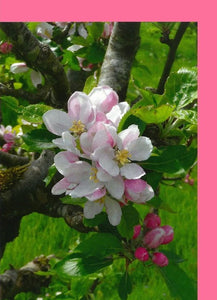 Size: 10.5cm x 14.85cm
Both buds and blossoms photographed on a mature bough in the monastery's orchard appear on this, the first of a series of Apple Blossom cards.

The text, which appears on the inside left, is an excerpt from a poem written by Hattie Howard. It reads:

Of all the lovely blossoms

That decorate the trees,

And shower down their petals

With every breath of breeze,

There is nothing so sweet or fair to me

As the delicate blooms of the apple tree.




Hattie Howard
These cards are sold in packs of four (with pink envelopes).