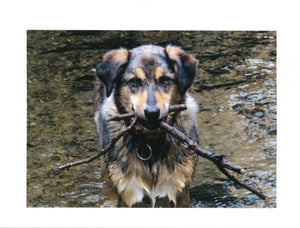 Size: 14.85cm x 10.5cm 
"Taisce" arrived into the Glencairn family a year ago. Her playfulness, her unconditional love and her sense of adventure remind the community of the freedom of the Gospel life that we are called to live. In this photograph Sr Michelle Miller captures Taisce down in Blackwater river, just begging for someone to throw her stick. 
Having been left completely blank inside, these make ideal cards for sending a personal message on any occasion.
Read about the photographer, Sr. Michelle Miller, here on our blog.
These cards are sold with white envelopes.
All who send and receive Glencairn Abbey cards are included in the prayer of the nuns at Christmas.