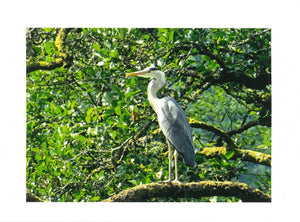 Size: 14.85cm x 10.5cm 
The regal stance, the penetrating gaze, the stillness of poise and posture that make the Grey Heron so identifiable are all beautifully captured by Sr Michelle Michelle in this photographic image of one of our native birds. 
Having been left completely blank inside, these make ideal cards for sending a personal message on any occasion.
Read about the photographer, Sr. Michelle Miller, here on our blog.
These cards are sold with white envelopes.
All who send and receive Glencairn Abbey cards are included in the prayer of the nuns at Christmas.