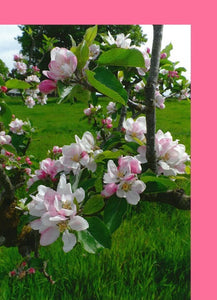 Size: 10.5cm x 14.85cm
The movement from bud to blossom, on a mature bough in the monastery's orchard appear on this, the second of a series of Apple Blossom cards.

The text, which appears on the inside left, is an excerpt from a poem written by Horatio Alger Jr and reads

The delicate blue of the sky.

And the changing clouds with their marvellous tints

That drift so lazily by.

And strange, sweet thoughts sing through my brain,

And Heaven, it seemeth near;

Oh, is it not a rare, sweet time,

The blossoming time of the year?

Horatio Alger Jr.
These cards are sold in packs of four (with pink envelopes).