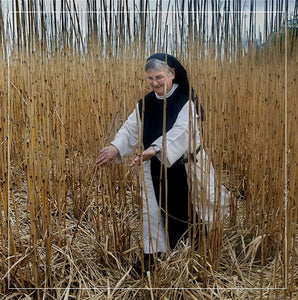 Size: 12cm x 12cm (square)
Photo of Sr Lily checking the miscanthus by Valerie O'Sullivan. Miscanthus is a renewable energy crop which fuels the biomass boiler for heating Glencairn Abbey.
Inside left is the text "Efforts to promote a sustainable use of natural resources are not a waste of money, but rather an investment" (Pope Francis, Laudato Si', 191).

Inside right is blank for your own message.
This card is sold individually (with envelope).